Real-time encephalography
Research on "Real Time Encephalography" covers the development of mathematical methods of signal processing in order to improve the effectiveness of the implementation of the biofeedback (BFB), the neurofeedback (NFB) and the brain-computer interface (BCI) paradigms, as well as other paradigms, based on the real time analysis of multi-channel biological measurements. These paradigms are real-time closed-circuit systems and generally consist of three main parts.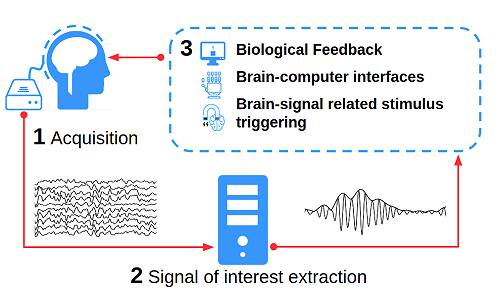 The first step is to measure the physiological activity of a person using various devices recording electromyographic (EMG), elecorticographic (ECoG), electro- and magnetic- encephalographic (E/MEG) signals describing the activity of muscular and nervous systems. In the context of BFB and BCI paradigms, these devices record the information from a number of sensors located on the skin (EMG), the scalp (EEG) or in the immediate area of the head (MEG). The received multichannel signal would then be amplified, digitized and sent to the computer for the further processing.

The second step is to process the information in real time selecting target signals representing various aspects of the physiological activity. Normally, the task of selecting the target signal is divided into in two phases of processing: spatial and temporal filtering. At the stage of spatial filtering, multi-channel signals are combined into one virtual channel, which has a well-defined physiological interpretation. During the temporal filtering stage, the virtual signal goes through the frequency analysis, in which the oscillatory components of physiological activity are being determined. Some additional information can be found while selecting the envelope of a narrow-band signal (which may be used to estimate the power of a particular oscillatory activity) or during the physiological state classification.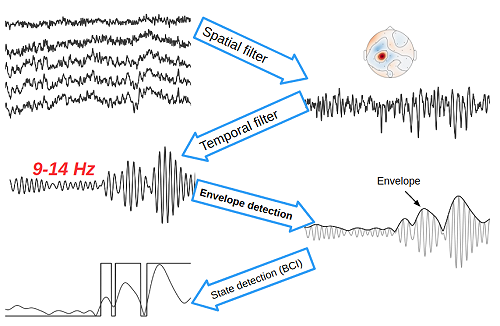 The third step of the real-time encephalography paradigm varies from application to application. In the case of BFB, the selected target signal is presented to a subject as a sensory (visual, tactile, auditory, etc.) feedback. In the case of BCI, the target signal is used to interact with a software or to control an external device. Another interesting application of the paradigm is brain stimulation practiced at the time of the physiological event.

The main research areas of the laboratory in this project is the development of methods of increasing the efficiency of real-time encephalography paradigms by improving the spatial-temporal specificity of processing of the bioelectric signals. Methods of predicting the effectiveness of the NFB therapy are also being investigated, as well as the ability to adjust ergonomic parameters of the feedback signal.
Have you spotted a typo?
Highlight it, click Ctrl+Enter and send us a message. Thank you for your help!
To be used only for spelling or punctuation mistakes.